Accessible Wheelchair Ramps in Rochester, NY
From Access Lifts & Ramps
A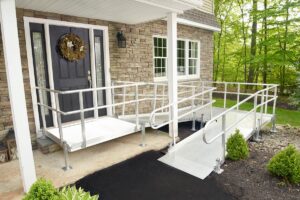 dding a wheelchair ramp is a great way to increase accessibility throughout your home. While essential for people in wheelchairs to get around, they also assist those who have a hard time with stairs and have limited mobility.
Easy to install in any home, contact us today to learn more about how we can provide you with a wheelchair ramp!
Why Choose a Wheelchair Ramp
Wheelchair ramps can help you stay in your home longer or aid loved ones when visiting you. From helping with daily activities to making grocery shopping easier to make it safer to move around in dangerous weather, wheelchair ramps are a great addition to your home.
The best benefits of a wheelchair ramp include:
Safety first
Enhanced accessibility
Increased independence
Increases home value
Easy to install
Creates peace of mind
Offering Several Ramps
At Access Lifts and Ramps, we offer several different types of ramps to give you the best mobility solution for your home.
These ramps include:
Threshold ramps
Full ramp systems
Switchback ramps
See How Your Can Make Your Home Wheelchair Accessible with a Consultation Today
If you're in the Rochester area, contact our team today to see how we can add a wheelchair ramp to your home to improve accessibility.