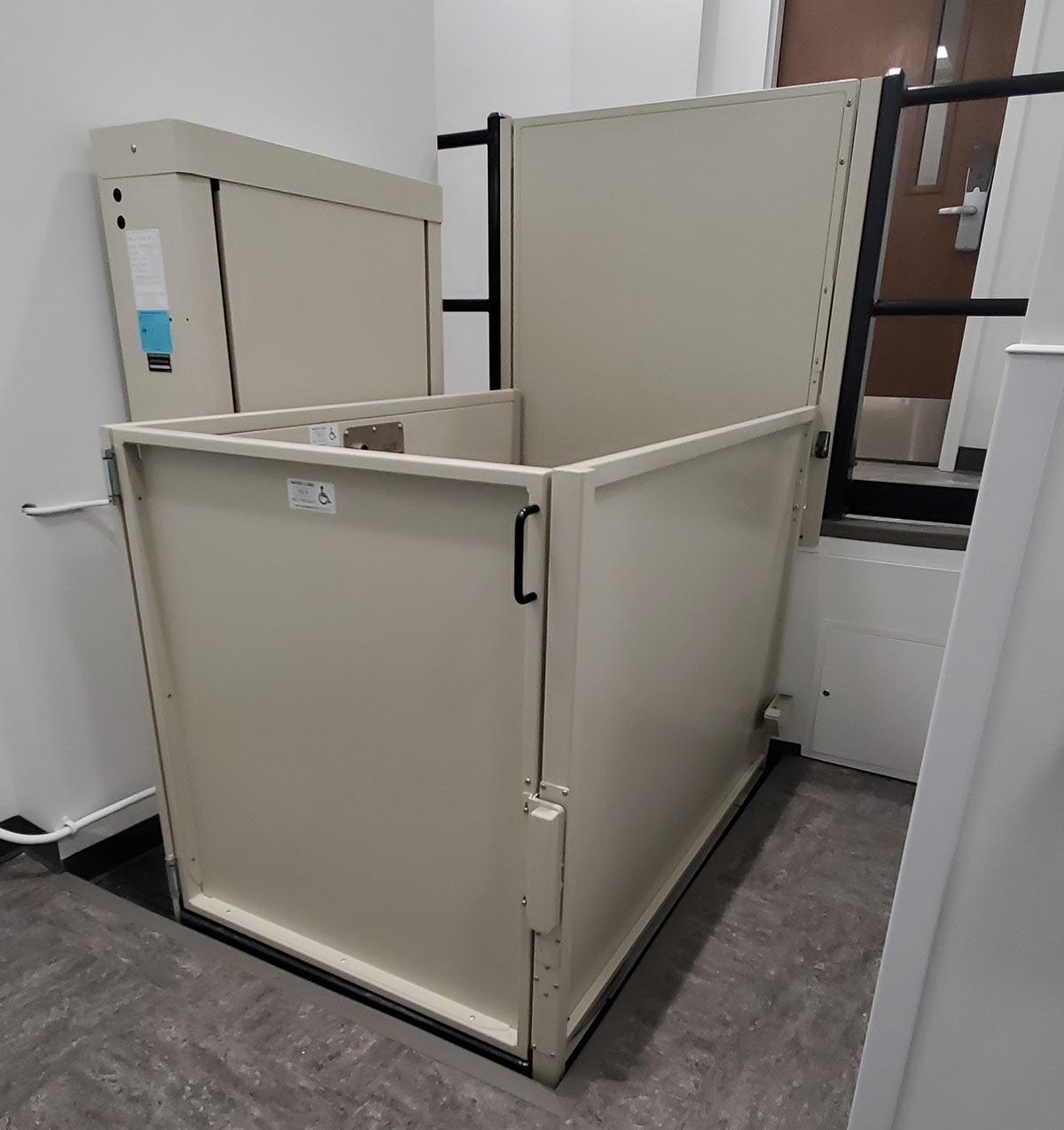 Being in a wheelchair doesn't mean people have to stop enjoying normal day to day activities. Multiple floors or several stairs no longer need to be an obstacle for any home or business
Wheelchair lifts and vertical platform lifts work with the use of constant pressure operation. This means that the user or an attendant must hold down the button to make the lift move while they are on it, and release the button to stop motion. They come in varying models of  Unenclosed, enclosed, and shaftway versions. What model you choose will be dependent on your needs, how far it needs to travel, where it is being installed, and your general design preferences.
Contact Us
Configuration & Sizes
Unenclosed vertical platform lifts can be configured as a straight through or 90 degree Enter/Exit configuration, and are available with the following platform sizes:
36" X 48"

36" X 54"

36" X 60"

42" X 60" 
Custom platform sizes can also be considered for your project.
Learn More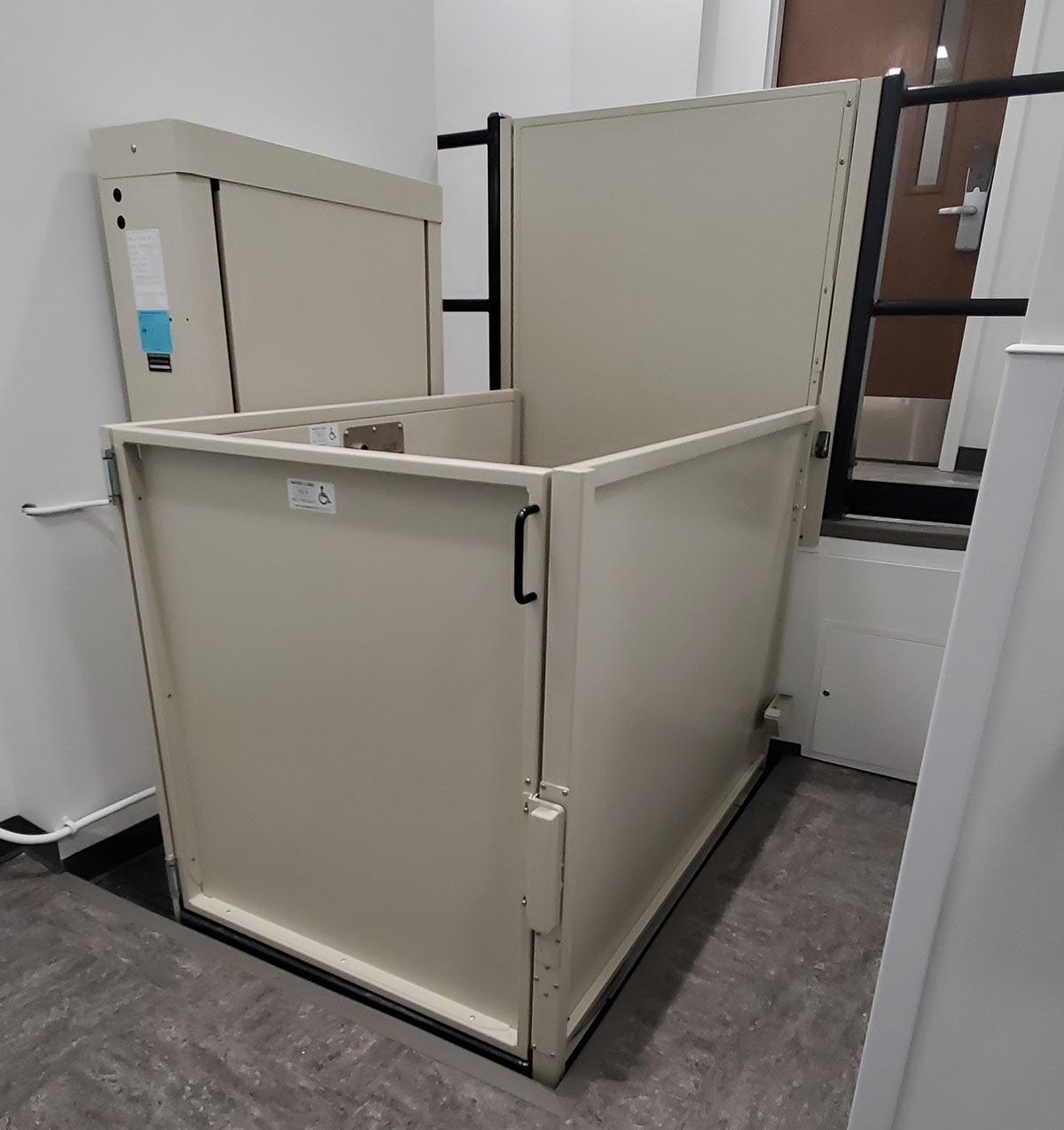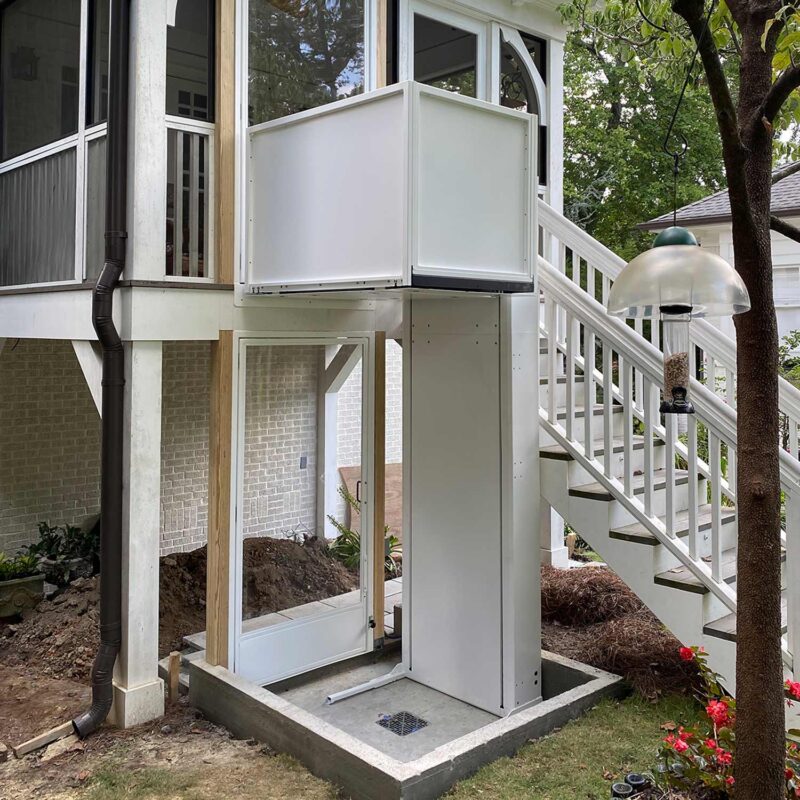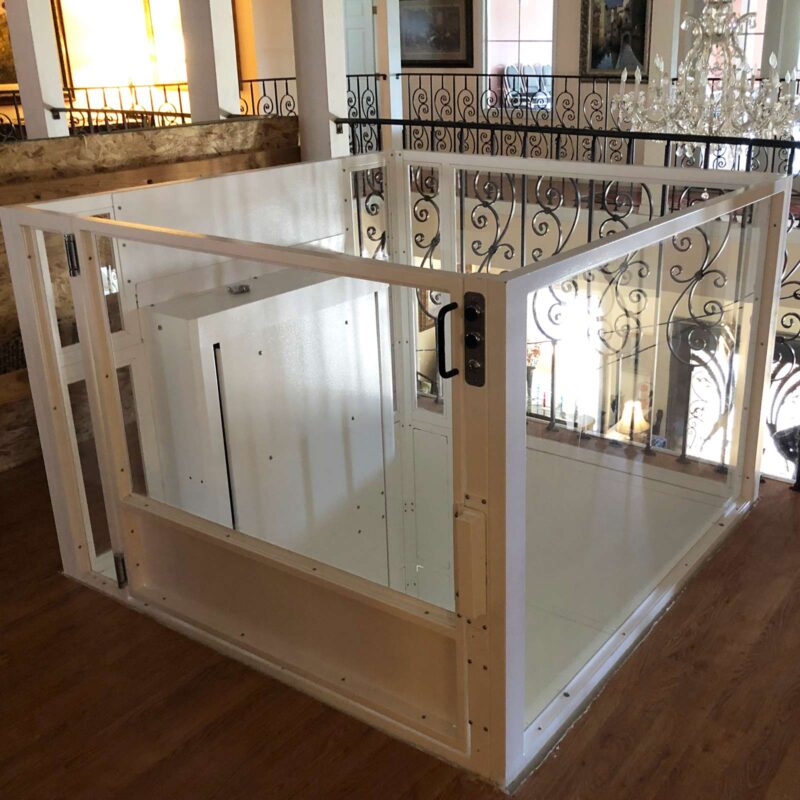 Our lifts can be made with differing materials to fit the overall look of your home or building.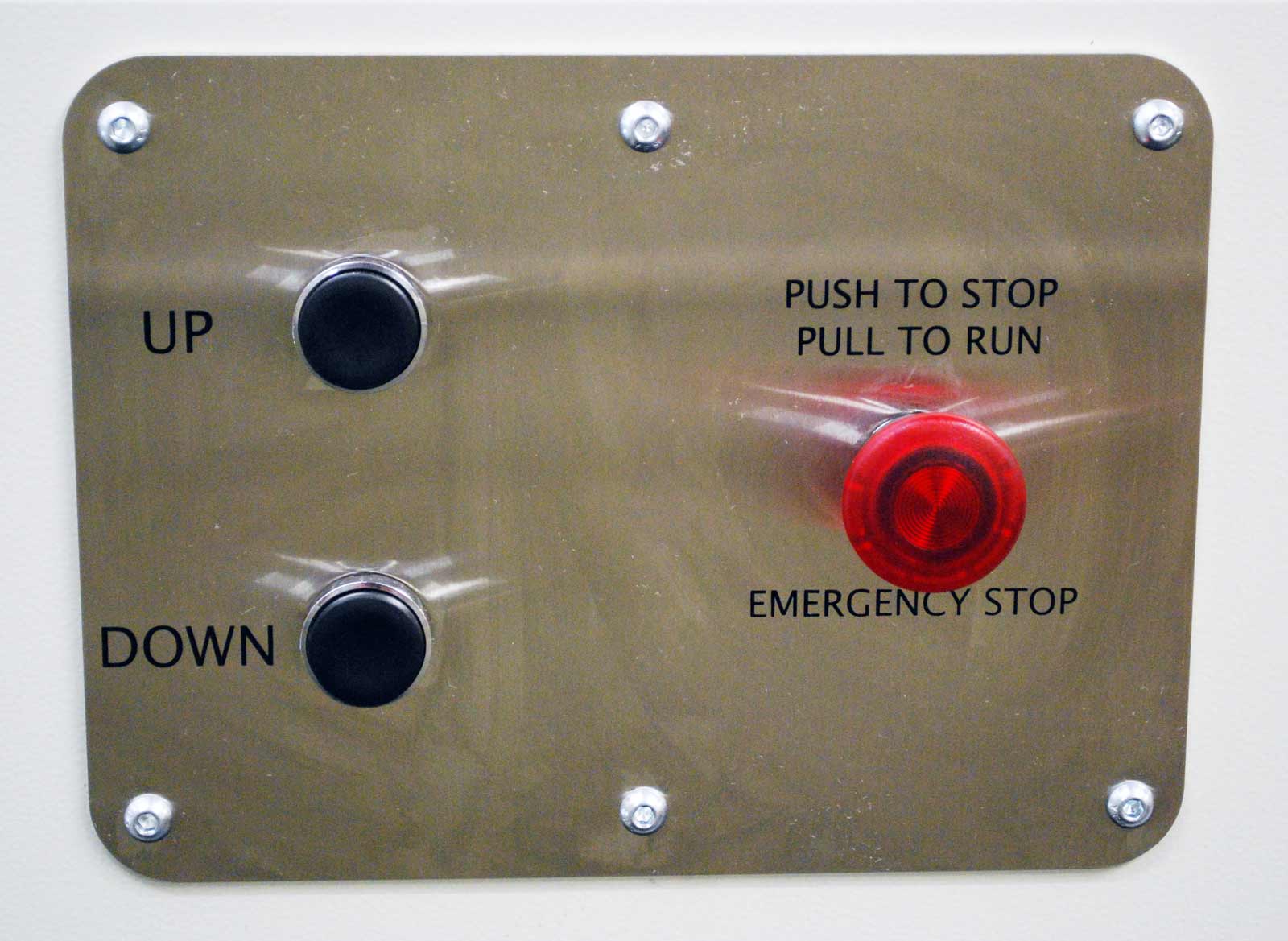 Here are the safety features you can expect to see on your Vertical Platform Lift:
Non-Skid Platform Surface

Alarm and Illuminated Emergency Stop Switch

Grab Rail

Upper Final Limit Switch
Other Safety Features to consider:
ADA Compliant Phone

Battery Backup Package

Broken Chain Safety Device (hydraulic drive)

Adding Interlocks on doors/gates to ensure that they stay locked and closed during operation of the lift.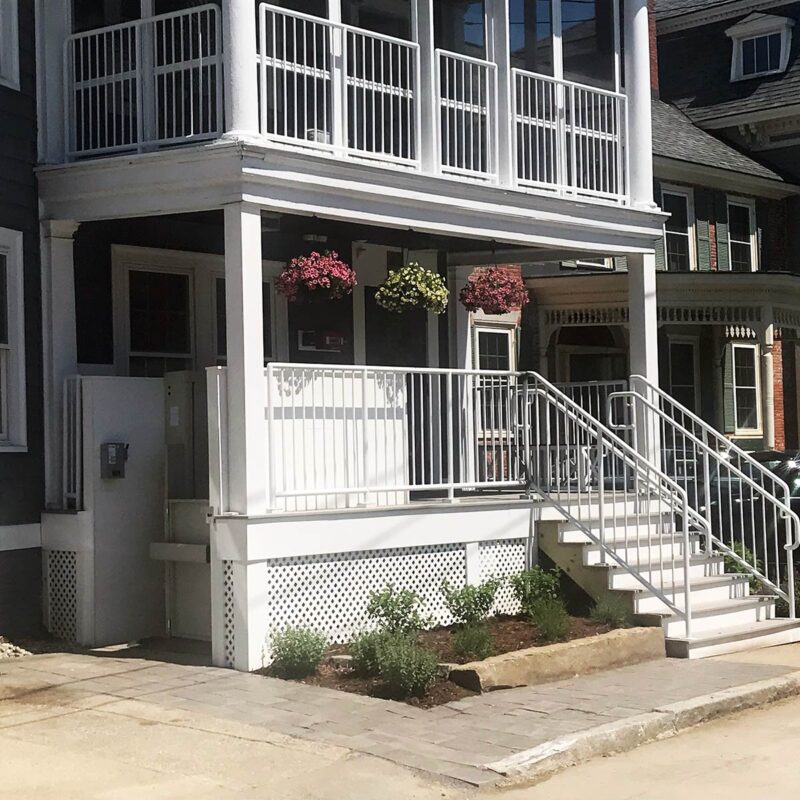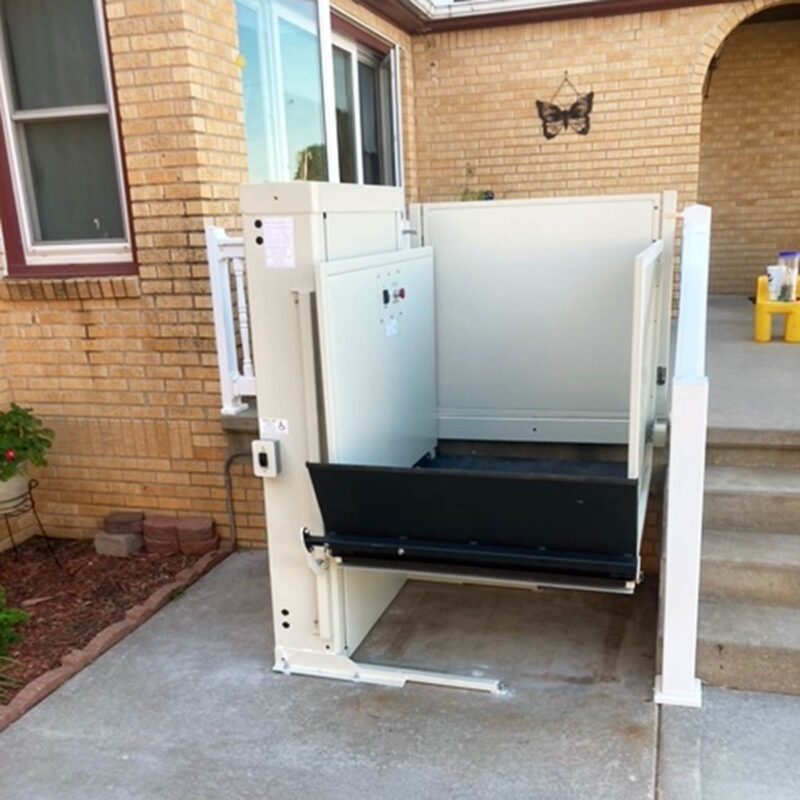 A 3" pit is generally expected for installation, and a Ramp will be required for Non-Pitted Installations.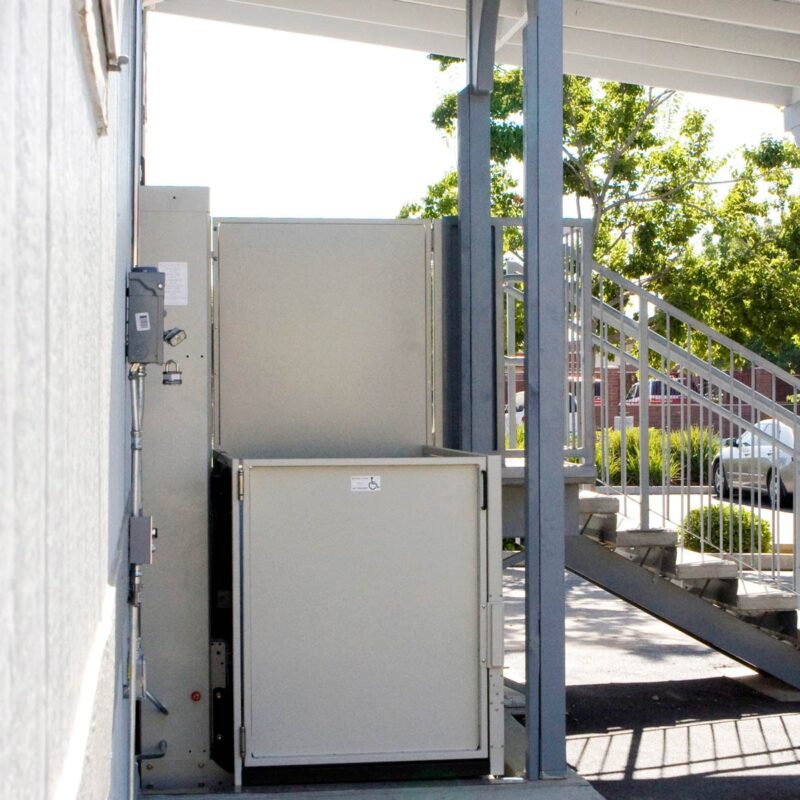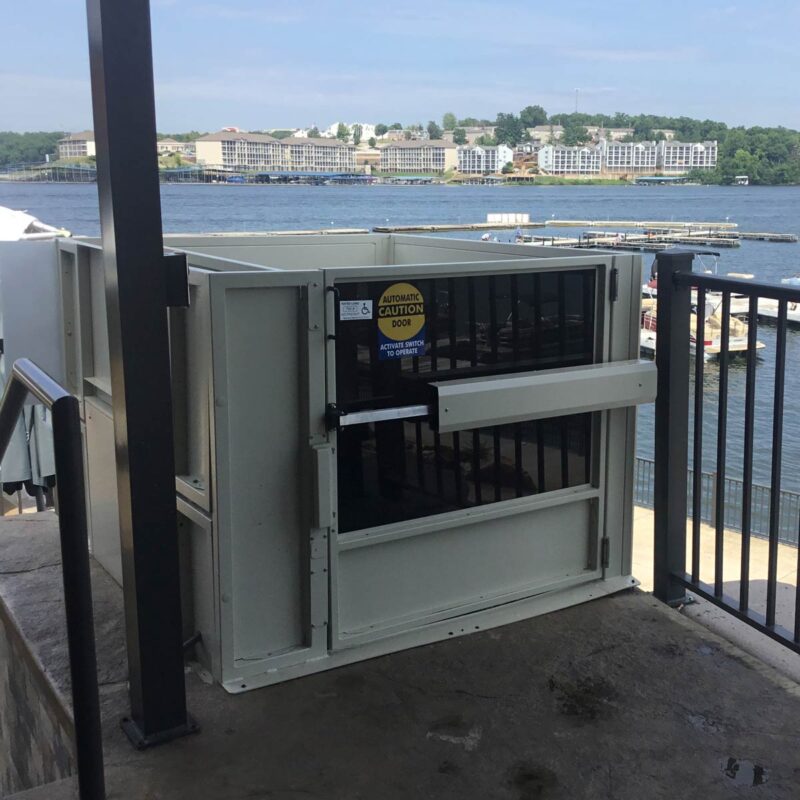 Wheelchair Lifts can also be used as a substitute for Gangways on piers.
Download an Unenclosed Vertical Platform Lift (Wheelchair Lift) Brochure
Shaftway Vertical Platform Lift
The Shaftway Model of Wheelchair Lift is made to fit into an enclosed shaftway that is made by others. This kind of Vertical Platform Lift is designed this way so it can more easily be incorporated into most settings like a traditional elevator would. These are also ideal for environments that require a fire rated vertical platform lift. Economically speaking, this VPL is also a great
They can be manufactured to be ADA-compliant for public places. These can also serve multiple stops or landings with 14' or 168" of travel, making them highly versatile and effective in many buildings.
Contact Us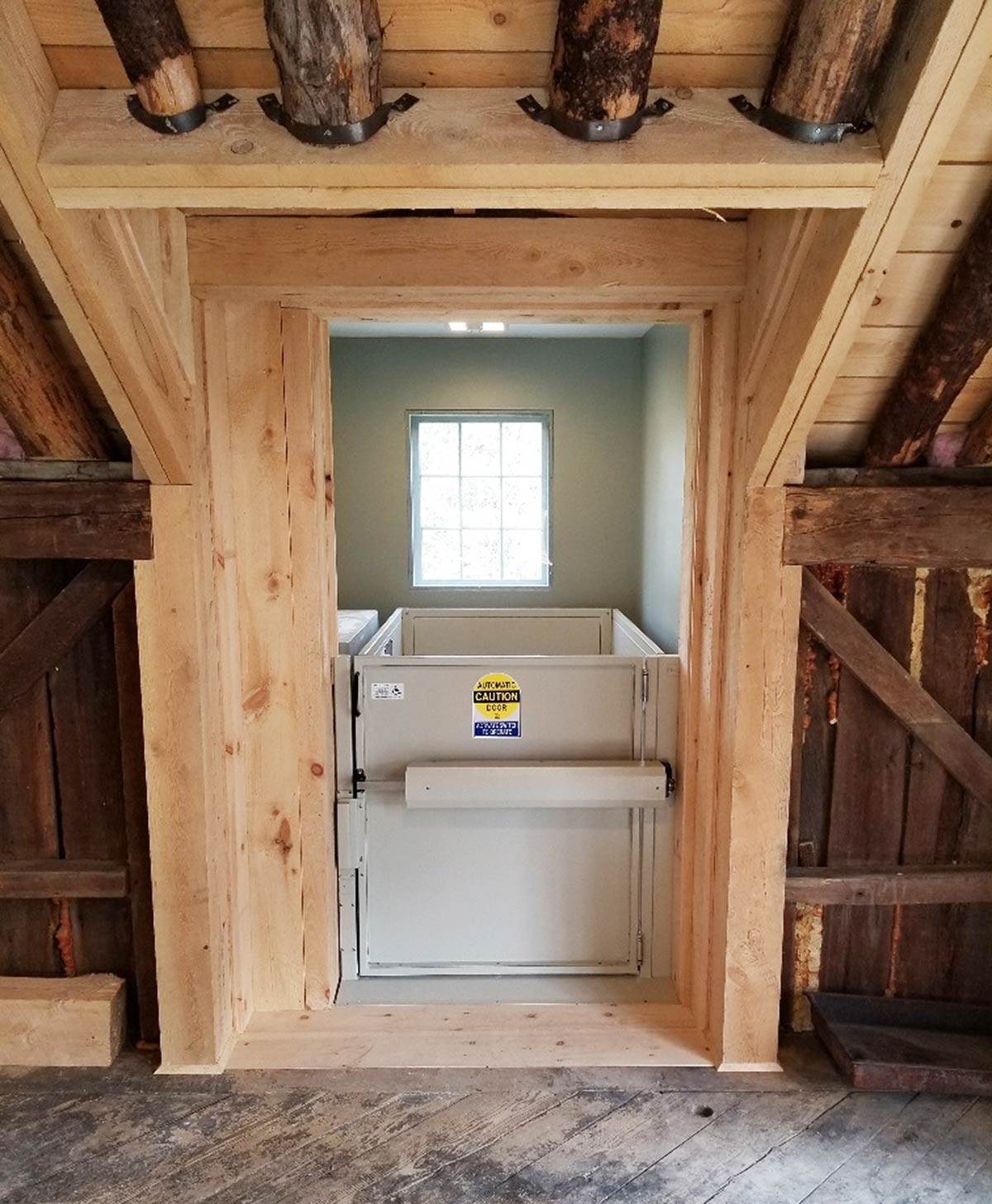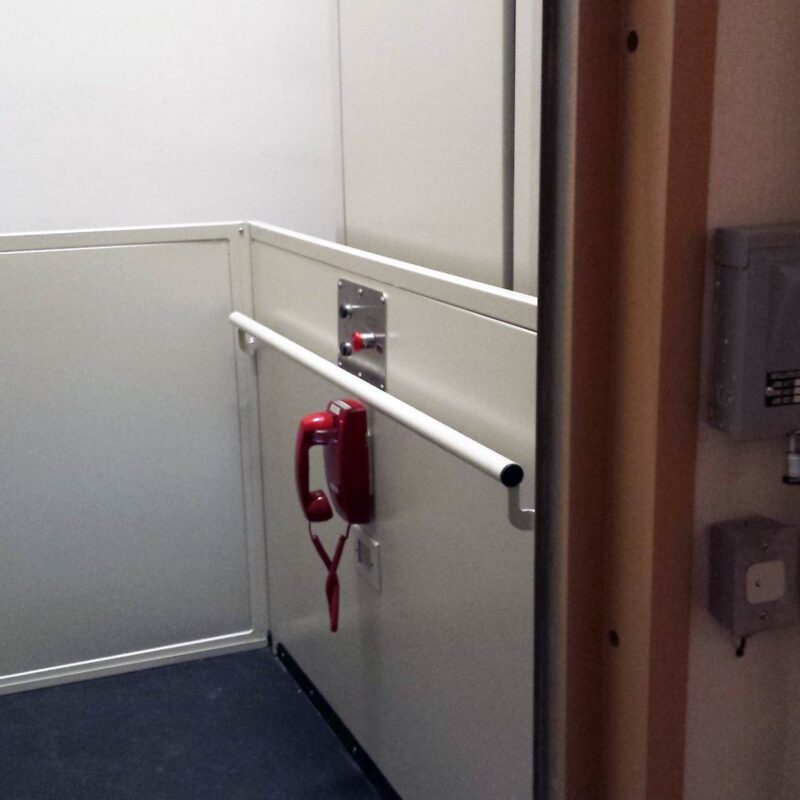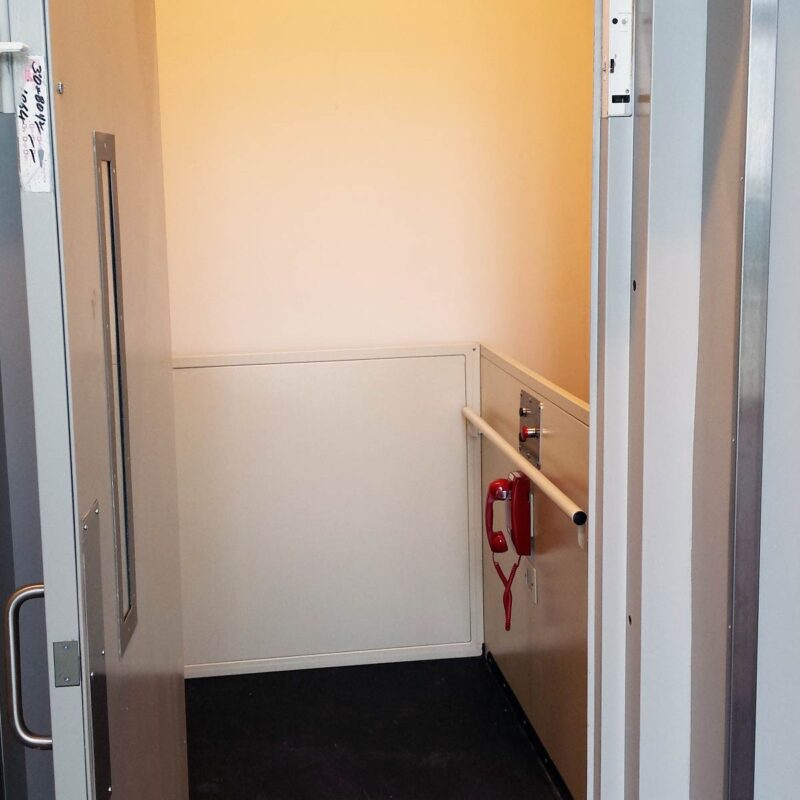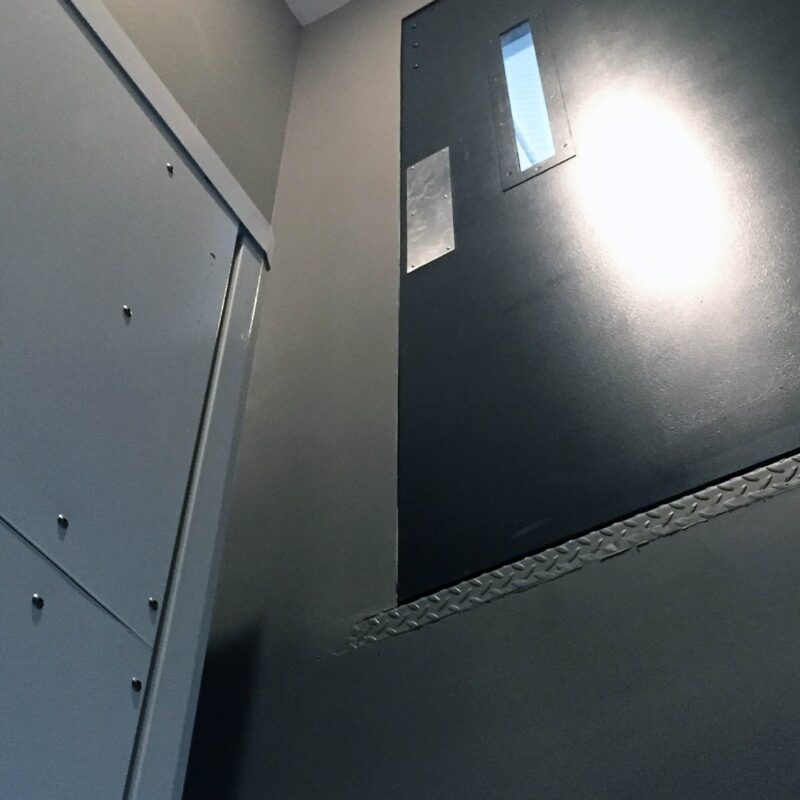 These are great options for businesses to consider when they are replacing an outdated unit that is in an already-built shaftway.
Download a Shaftway Vertical Platform Lift Brochure
Portable Wheelchair Lifts
Vertical Platform Lifts can also be purchased in a convenient portable model. These models are great for environments that may not have the space to keep the Vertical Platform Lift in the room at all times. They also do not require any additional site preparation or construction done at the site for their use.
This type of wheelchair lift is used most often in stage and podium environments. They are a fantastic, budget-conscious, low-rise vertical barrier solution.
Contact Us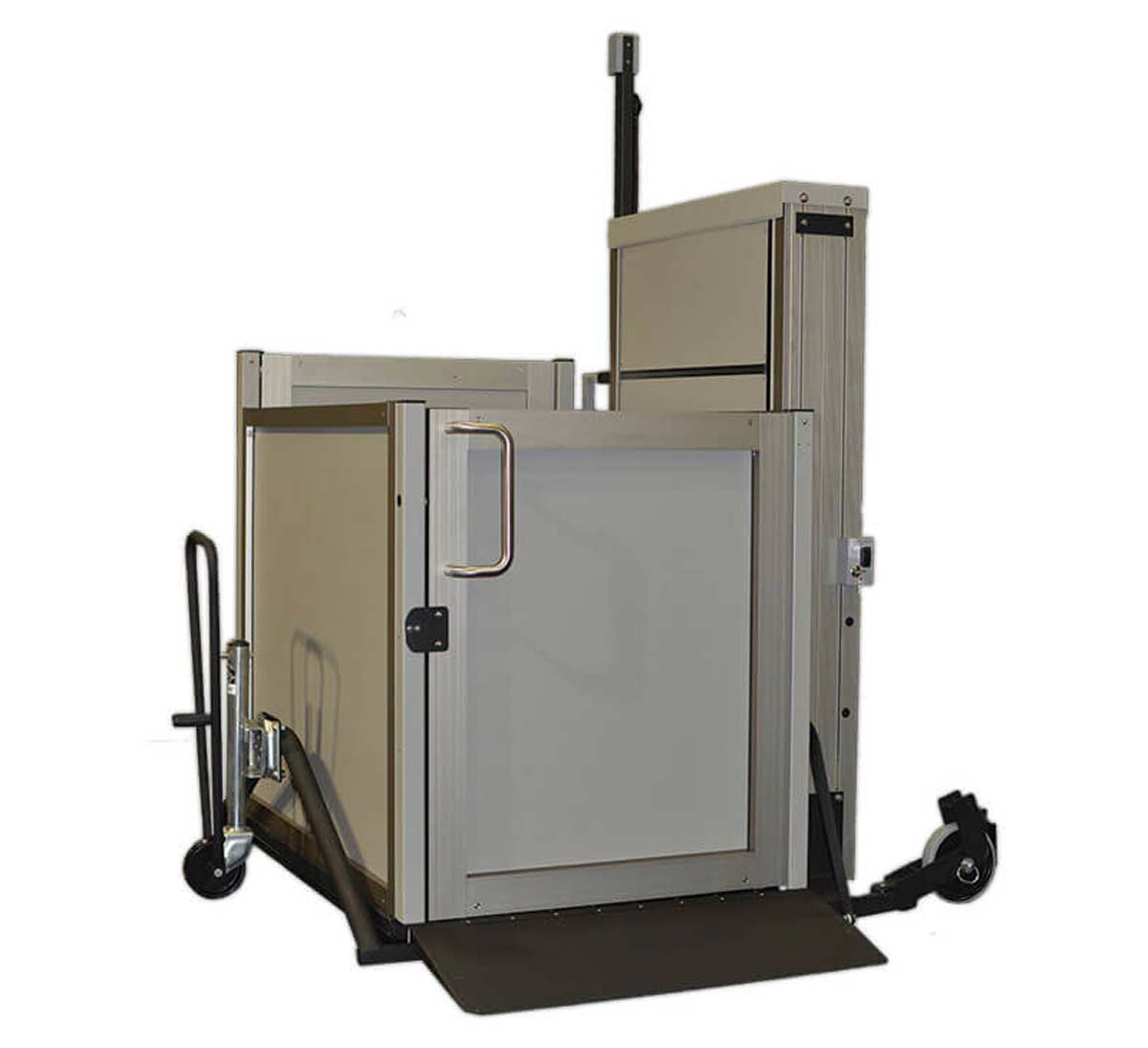 Driven by a single-phase Acme Screw Drive Motor, the main power required for this unit to operate is 120VAC. It comes with a standard wall plug and 10 feet of power cord.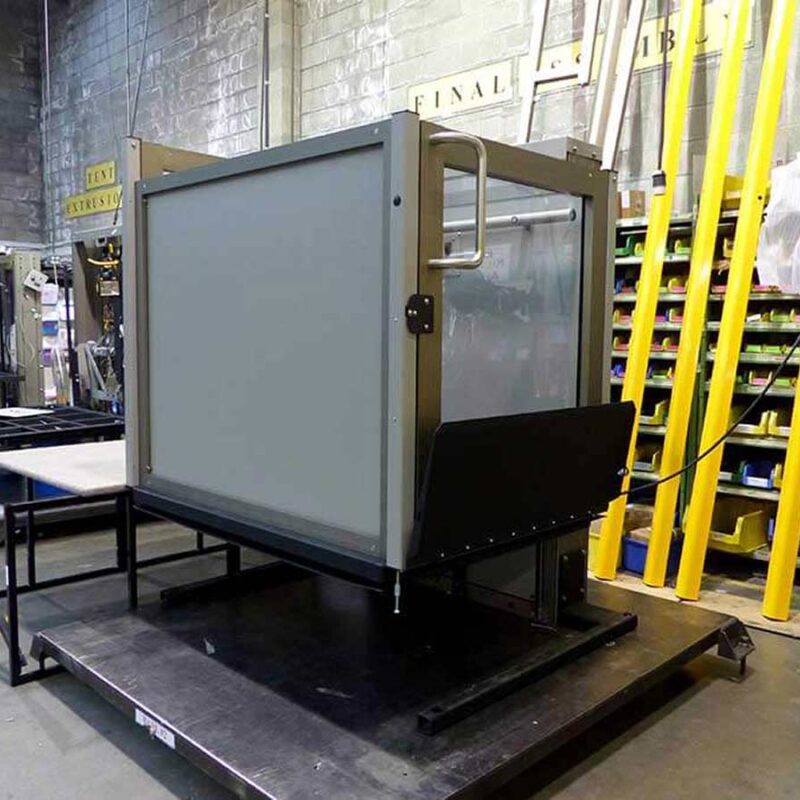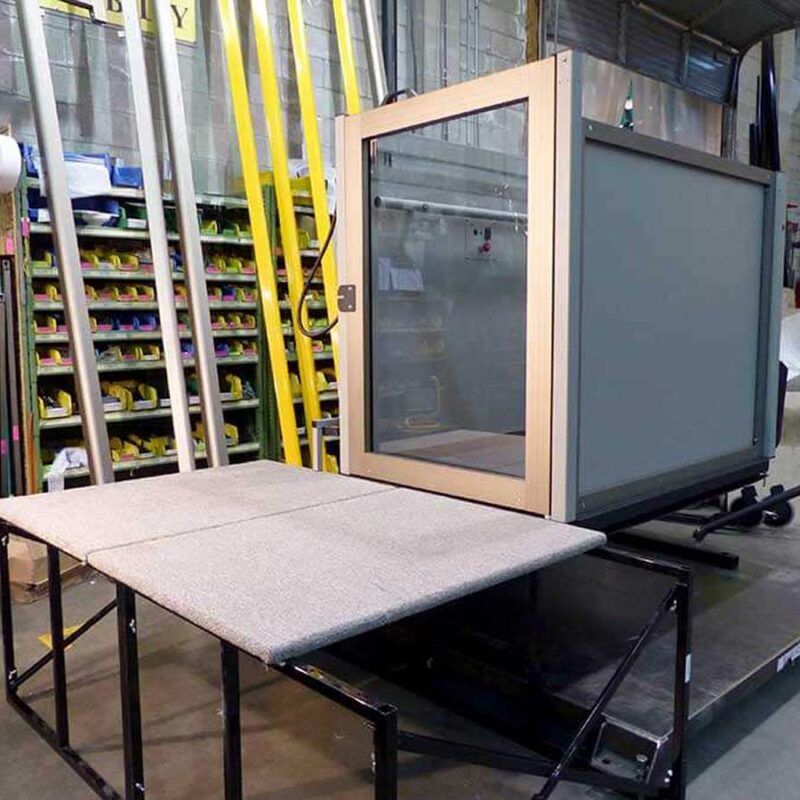 The Three Wheel Portable Design makes this unit easy to use and easy to move out of the way when wheelchair accessibility is not needed.
The lift is equipped with many safety features, up to and including a downward travel obstruction safety sensor and an emergency alarm. It can also accommodate upward travel up to 42", and like all other wheelchair lifts, it has constant pressure operation.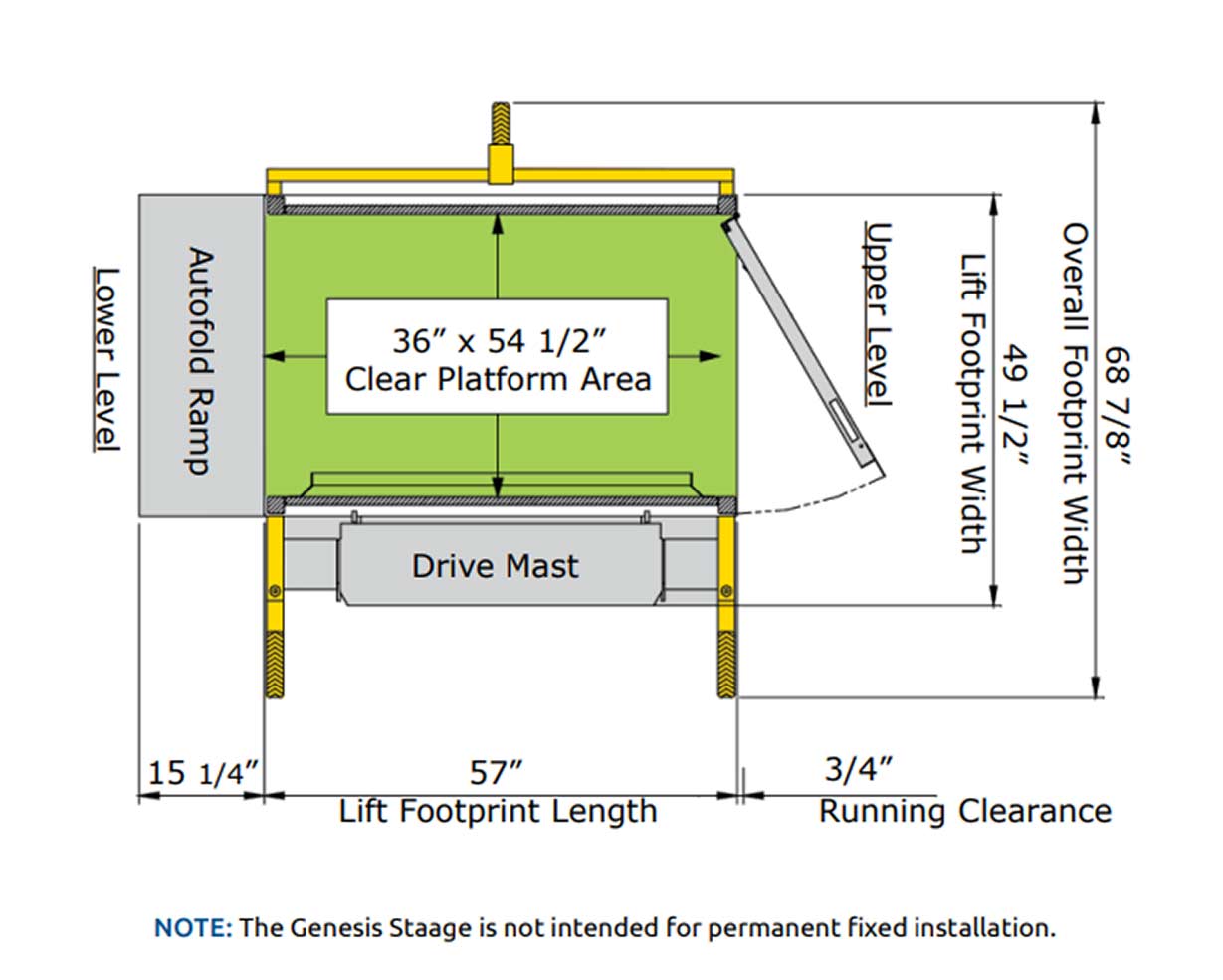 Download the Garaventa Staage Brochure